Details

Published: Tuesday, 06 October 2015 16:31
Written by Antonella Ferrucci
Hits: 1167
On occasion of the 90th French Social Weeks, a presentation for a round table discussion entitled "Renewing our vision of globalization through religions."
by Luigino Bruni
Paris, UNESCO, 3 October 2015
1.   Creation, the Earth, Fraternity
Civilizations that proved very fruitful are those that have not developed a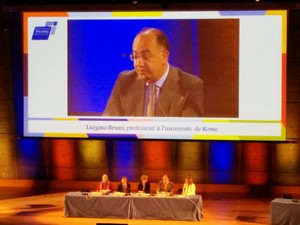 predatory relationship with the earth and with time, but the ones that have understood, experienced and welcomed them as a gift.
According to the Bible the earth is part of creation, and so "the earth is YHWH's" If the world and the earth are part of creation, then we are inhabitants of a land that we are not the masters of. Biblical humanism is centred on the radical generosity of time and earth. This was expressed in many ways, but especially and in a foundational way by the great law of the Sabbath and the Jubilee: "Six days you shall do your work, but on the seventh day you shall rest; that your ox and your donkey may have rest, and the son of your servant woman, and the alien, may be refreshed." Exodus ( 23,10-12)