Details

Published: Saturday, 27 December 2014 23:00
Written by Luigino Bruni
Hits: 2730
Midwives of Egypt/21 - Moses' life events say a great word to us: gratuitousness
by Luigino Bruni
published in Avvenire on 28/12/2014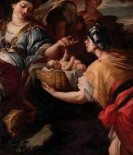 No one knows his resting place. For the men of the mountain, their tomb is located in the valley; for the men of the valley, it is situated on the mountain. It is everywhere and elsewhere, always elsewhere. No one was present at the time of his death. In a sense, he still lives in us, in all of us. Because, as long as there is a son of Israel, somewhere, who proclaims his Law and his truth, Moses lives through him, in him, as the burning bush lives, which consumes the hearts of men without consuming their faith in man and in his agonizing cries.
(Elie Wiesel, Biblical characters through the Midrash).
To learn how to be born again we must re-learn to die, something we have forgotten. Consumer society is first and foremost a gigantic effort to exorcise death, the limit, old age; it is a huge, sophisticated industry of perpetual entertainment that should not leave us time and space to think that one day the big game of consumption will end and the carousel will come to his final lap.