Details

Published: Tuesday, 29 December 2009 17:53
Written by Alberto Ferrucci
Hits: 6251
The EoC and the challenges of the millenium
by Alberto Ferrucci
from "Economy of Communion - a new culture " n.30 - december 2009
In 2000, the United Nations made a list of objectives for the third millenium: fight against hunger and the number of women who die giving birth, fight against AIDS and other pandemias, schools for all the children in the world, that sustainable development become a unbiquitous paradigm, free commerce and non-discriminatory finance systems.

It would seem that only the last two objectives are linked to economy, but in reality all of them depend on the lack of social structures and work – a good part of hopeful trips taken in our times are faced to bring one´s children to countries where food, health and instruction are guaranteed to all.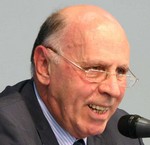 To be able to extend this guarantee to the whole would is a difficult objective to carry out without the spreading of a new culture. We believe that the culture inherent in the Charism of Unity would help scholars and politicians formulate concrete proposals on how to do so. The challenge is to identify the strategy to make this culture reach the whole of humanity.

However, when concrete proposals are formulated, we cannot deceive ourselves into thinking that they will be easily carried out. The financial crisis has left us as an inheritance an economy with growing purses, thanks to money at zero cost, in which the good proposals for developing an economy and finance that has more respect for man seem to fade.