Details

Published: Friday, 21 January 2011 12:19
Written by Alberto Ferrucci
Hits: 6104
Spirituality and Economy
The identity card of Christians
Comment on the Word of Life, January 2011: "The community of believers was of one heart and mind, and no one claimed that any of his possessions was his own, but they had everything in common" (Acts 4:32).
By Alberto Ferrucci
Published in Città Nuova n.24/2010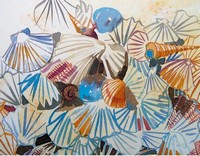 The "magic" of being "only one heart" among human beings, each different from one another, is a rare privilege. It's the anticipation of a life that is not of this world, the inheritance of the Incarnation. Before being put on the cross, Jesus left a way to reach this goal: "Love one another as I have loved you", ready to give one's life for his friends: the New Commandment.