EoC The Inspiration
When the Focolare Movement began in 1943 in Trent Italy, the rediscovery of the gospel's new commandment, "love one another as I have loved you" (John 13: 34) inspired a communion of spiritual and material goods.
Since then, the communion of goods has become standard practice in the Focolare Movement following the example of the first Christian Communities.
This is a fact of enormous importance and rich in consequence. The communion of hearts and goods, a jewel of early Christian communities that echoed the teachings of Jesus, was the lifeblood of the Church for a long time.
Although it has since lost its strength, it has been preserved in monasteries, convents, and some lay community. Then, in that small community begun in Trent, Italy, the practice exploded again, bringing about a resurgence for the masses of Christian people with all the fruits and consequences that will eventually develop.
Chiara Lubich and her first companions were aware of its influence from the inception. Chiara said: "We were trying to live the communion of goods to the maximum extent possible to resolve the social problems of Trent.
I thought 'there are two or three areas where the poor live... let's go there! We will take what we have and share it with them...' " Our reasoning was very simple: We have more - they have less. We will raise their living standard to achieve some level of equality."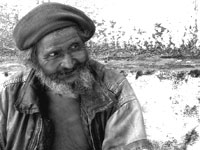 And it is from those beginnings that an "amazing" experience of gospel began. "'Give and it will be given to you.' In the midst of a full-blown war, food rations, clothing, and medicine arrived in uncommon abundance."
We became convinced that putting the Gospel into practice holds the answer, in a nutshell, to every problem for individuals and society.