EoC the firm
Quality of life, happiness and relationships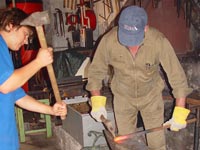 One of the fundamental objectives of an EoC business is to become a real community. To this end, periodical meetings are programmed to verify the quality of interpersonal relationships and to contribute in resolving situations of conflict, availing themselves of so called 'instruments' of communion, among which the occasional meeting between administrators and workers, (at least once a year), moments of 'fraternal correction' between all members of the business, a time for listening, on the part of managers to eventual protests, dissent and suggestions; and the exchange of experiences during moments purposely set up. The EoC business knows that if these instruments of communion are not exercised, business life is impoverished, with a cost to economic performance.
Special attention is given to physical health, sports, and care of the environment, since communion embraces nature and body as well.
Towards the care of relationships, the EoC business gives importance to a time of celebration, even in work clothes, during which relationships, and the sense of belonging to a working community, are strengthened.