EoC the firm
Formation, instruction, wisdom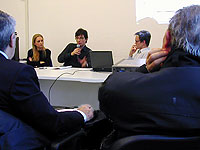 The business will favor the creation of a climate of confidence among its members, in which it is natural to bring one's talents, ideas and competencies to the advancement of professional growth of colleagues and for further progress of the business itself.
The first school of formation is always the business community with its various relationships. Moreover, the administration will adopt selection criteria for their staff and provide programs for the professional development of its workers such as to make easier the creation of such a climate. The business will provide opportunities for continuous upgrading and updating, favoring professional formation and the formation of the culture of communion both for workers and youth interested in the project.
Lastly, the entrepreneur and the workers of EoC will cultivate their qualities and interests either when in the company or in other environments. They will particularly follow the development of economic culture participating of schools and conferences, in such a way as to be ever better able to give reasons for his business vision.