EoC the firm
Communication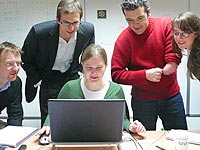 Entrepreneurs adhering to the EoC work constantly to create a climate of communication that is open and sincere, one that will favor the exchange of ideas and information at all levels of responsibility. To this end, they adopt opportune tools of periodical reporting, both internal and external (e.g. 'social balance'), tools which show through facts the social value generated for various subjects interested in the business activity.
There can't be communion without communication. Businesses structured according to the Economy of Communion, with the intention of developing economic relationships of reciprocal production and benefit, use the most modern means of communication to connect, both locally and internationally.
Businessmen who adhere to the Economy of Communion, conscious of the cultural and political value the success of the common project can bring, maintain always alive among them, at the local and international level, a spirit of reciprocal support and solidarity. They network with all those men and women of good will who want to contribute sincerely to a more just, fraternal and united world.